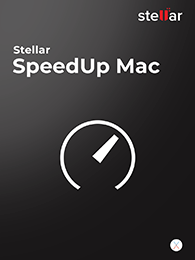 Cleanup macOS Other Storage
Other storage spaces on Mac is something to be taken care of since an increased 'Other' storage reduces the available free spaces on the Mac hard drive. Thankfully, Stellar Speedup Mac is a Mac cleaner program that cleans trashes, system junk files, logs and extensions. In short, Stellar Speedup Mac software can help you regain disk spaces that are occupied unnecessarily. Read More Features:
Empties trash when trash folder size exceeds limit.
cans entire hard drive blocks to collect and remove duplicate files.
Scans full Mac disk to eliminate leftovers from uninstalled applications.
Scan helps you analyze large and unused files for removal.
Software contains an Uninstaller to remove any application, widgets or plugins.
Provides separate cleanup options for Macintosh HD and non-booting partitions.
---
Specification
Version: 3
Processor: Intel
macOS: El Capitan 10.11, 10.10, 10.9, 10.8, 10.7, 10.6
Memory: 1 GB
Hard Drive: 55 Mb of free space
When to use Stellar Speedup Mac Software?
When Mac shows growth in Other storage, and you need to clean up Mac Other storage
When Mac hard drive is running out of disk spaces rapidly
When Mac begins to crawl or runs slow due to non-availability of hard drive spaces
When you want to reclaim more free spaces for your SSD or HD
When your external hard drive is filled or running out of spaces etc.
When you need to uninstall application(s), widget(s) and plugin(s) using a single platform. Or, you are unable to remove an installed application using drag-drop.
When you want to remove duplicate pictures, videos, audio, documents from Macintosh HD, SSD, SD Card, External hard drive, etc.
When you want to schedule a Mac cleanup for your hard drive
When to require to remove language files other than the default system language
When you are deciding to get rid of the error – "Your Startup disk is Almost Full."